Off-site marketing can drive high-quality traffic, gain more exposure, and increase the probability of transactions. Sellers who use three or more marketing channels have a 250% greater buy conversion rate than those who use one.
Data Analysis
Amazon Insights revealed that 41% of sales came from search and 56% of search channel users add to their carts.Complete the final purchase.
Let's look at Google Ads again. From October 2022 to January 2023, retailers using Google search advertisements to drive visitors to the product details page will display the brand's other three associations at the top.
Returning to the consumer level can also see the importance of off-site marketing. Consumers will go through multiple touchpoints before purchasing : discovery — understanding — comparison (product price/brand, product efficacy/added value) — consideration — purchase -use.
Consumers use search engines to "find" new brands and items. 38.4% of consumers find new brands using search engines, and 45.6% find new items.
When some merchants choose off-site drainage methods, they will use Google as an important channel.
Google handles about 3.5 billion searches each day and controls 90% of the worldwide search engine market. After Google, YouTube processes 300 million queries every month from over 2 billion logged-in users. searches.
Google Search
And Google adopts the latest natural language processing system, which can bring some breakthroughs in different dimensions.
First of all, Google search is a conversational search. It does not rely on single keywords for one-way communication, but produces results of dialogue with experts during search.
Second, Google Search has a cross-language search mechanism. 13% of Canadians search in French, and India has over 20 official languages.In the face of consumers who use different languages, Google's natural language technology can realize up to 75 languages. The second turn.
Finally, the technological breakthrough of Google search lies in cross-media. Many people think search is still text-based, yet many search patterns have evolved. Google search supports voice search, picture search, and will soon add video search and voice assistant services.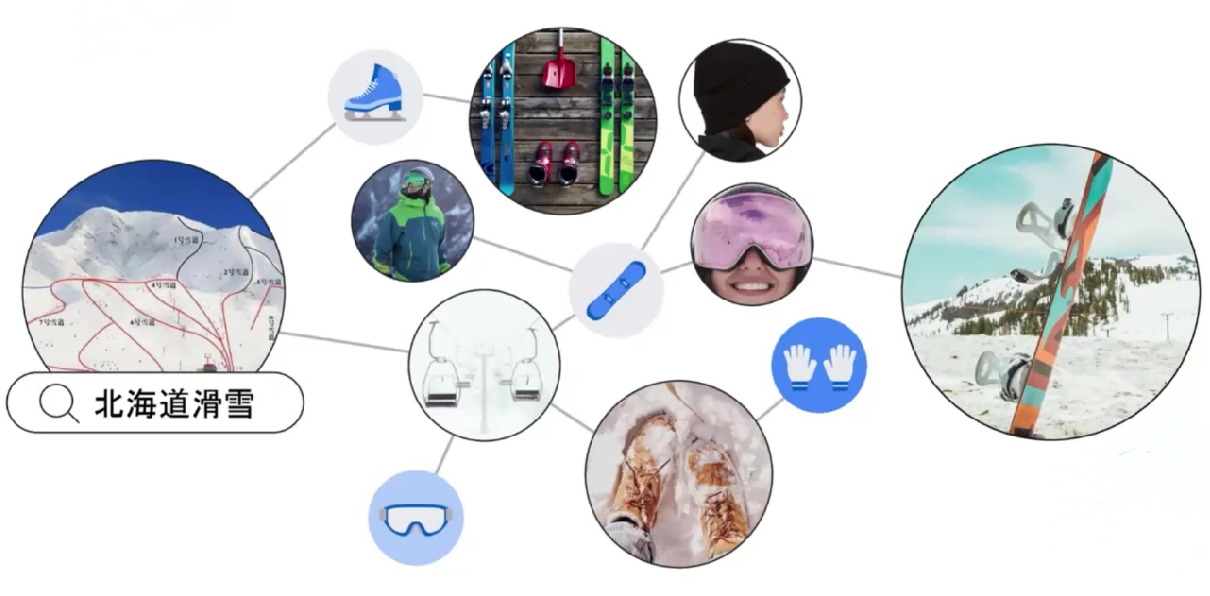 Examples
An foreign user may search Google Search for "what to prepare for skiing in Hokkaido." Help merchants will recommend and bring items when interacting with experts. Google search nowadays meets more consumer needs.
Google also innovates technologically. Open the Taobao app to scan a product to locate the same style. Google Lens is another app. Its updated function is that when searching for a certain pattern of clothing, it can immediately display different product information. If the user requires more products, such as the same socks, end-to-end automation technology will be shown.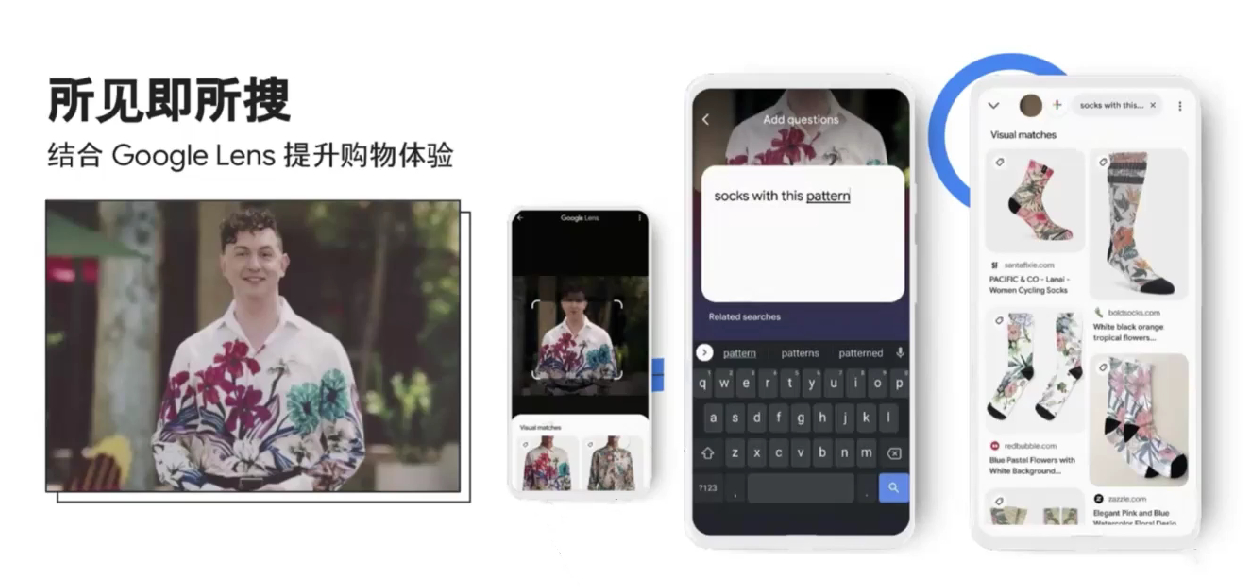 Google Search Ads, Display Ads, and YouTube can boost brand recognition and consideration, optimizing event sale day sales.
in the present peak season among them, the overall strategy of off-site drainage can be divided into three parts:
1. Prepare the peak season activity strategy as early as possible to make the brand the first choice of consumers, because consumers will not wait until the promotion day to research products. It takes 5-7 exposures to make consumers remember a brand.
2. Appear when consumers need it, attract consumers before the event promotion day and promotion day, and increase the chance of purchase conversion. When brands communicate a consistent message across channels, turnover increases by 23%.
3. Use automation to reach shoppers looking for deals throughout the customer journey and drive growth across channels. Be aware that some purchases require 500 online touches to convert.
So how to make an off-site activity plan?
Preparation elements for off-site promotion:
Explore product selling points, including pros and cons, to maximize strengths and minimize flaws.
Plan the course, create the promotional theme page, and set up platform tracking.
·Formulate event marketing strategies: scientifically allocate distribution channels, set audience positioning, and use promotional advertising functions.
Preferred application scenarios for off-site:
New products: fast cold start, new product support advantages (new product warehousing discount plan).
Clearance of slow-moving goods: avoid additional inventory costs (surcharge for storage utilization + surcharge for overage inventory).
The main promotion in the peak season: break through the bottleneck of growth and stabilize the Top ranking.
While using the Google account background hot search tool, you can identify user pain points, highlight product advantages that fulfill user needs in product introductions and marketing promotion content, and downplay disadvantages. Combine user-liked sceneries and add user-important functionality to product descriptions.
The figure below shows two paths to use Google to attract traffic: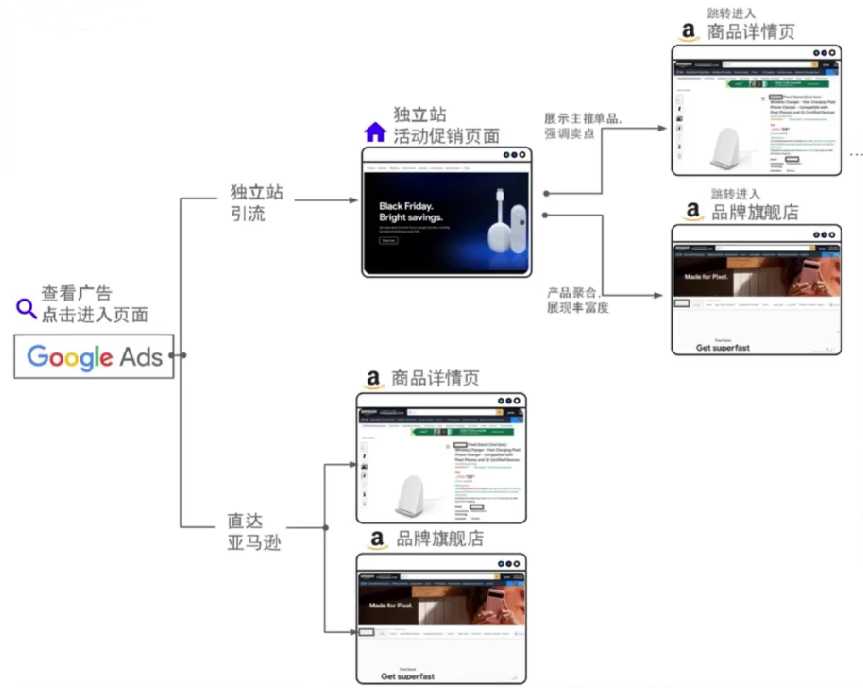 Merchants should pay attention to the following when tracking and deploying in the above two drainage paths:Sset Google advertising code on the promotional page and jump to the purchase button.
Create an exclusive social media discount code (Social MediaPromo Code) as identification, for example: ABCGG20OFF.
If the seller does not know how to choose these two drainage paths, you can understand their advantages and disadvantages:
Advantages of independent site drainage
screening people with purchase intentions; accumulating one-party data for remarketing lists; using preheating pages to buffer peak season warehousing and delaying missed delivery periods; common words CPC is relatively cheap , and conversion rate and ROI are higher. Disadvantages: long conversion path , loss of traffic ; promotion page content quality requirements ; short-term sales ROI of independent website mall may have a certain impact.
The advantages of direct access to Amazon:
fast traffic replenishment; low deployment cost, no need to modify the independent station interface; high online efficiency. Disadvantages: It is difficult to further filter traffic; unable to accumulate intended user data.
In addition to the above two drainage paths, you can also attract traffic on three-party websites, such as discount websites, product review websites, celebrity links, and vertical forums.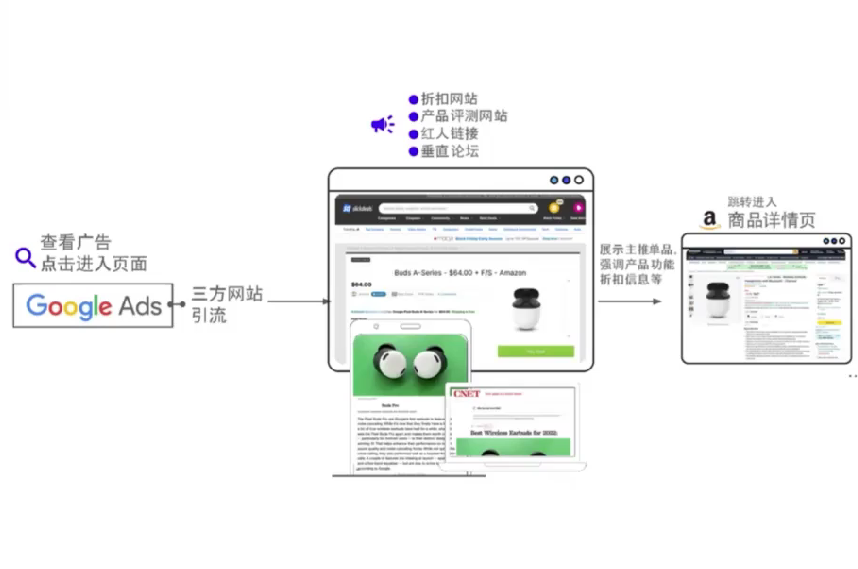 The advantage of this kind of drainage path is that it can use the professional endorsement of the original content of the three-party discount/evaluation website; focus on the main product information and screen the people who pursue discounts; The disadvantage is that regular content maintenance is required, and labor costs may increase; customers with low brand awareness may face difficulties in posting, requiring multiple attempts; it is necessary to understand the rules/deployment tracking of third-party websites in advance .
How to scientifically plan the launch strategy for off-site in peak seasons?
Participating in Amazon promotional activities during the peak season can divide off-site drainage into three stages: warm-up period, activity period and return period.
Warm-up period: large-scale exposure, attracting attention, and promoting brand/product awareness and consideration.
Activity period: Fully attract traffic and introduce high-potential users to the activity page. It is also recommended to plan the cycle of promotional activities in the independent station.
Return period: Return to the official website of the brand to maintain user retention.
These three stages also have different playstyles:
1. The warm-up period is mainly for event promotion, promoting user awareness and consideration. During the launch, you can use video ads + display ads to reach a wide range of people, raise your voice, and attract attention; use search ads to capture specific product & event searches; you can also create a new Amazon promotion page on the brand's official website for collection The remarketing list is ready for the second stage. The investment budget can be allocated according to the ratio of 30% for search ads, 45% for video ads, and 25% for display ads.
2. During the event period, in order to fully attract traffic to the event page, you can use display ads/discovery ads to increase the coverage of high-potential users and promote clicks; use search ads to continuously capture search terms related to products & events. Note that it must be combined with the first stage to focus on the marketing list. The budget allocation for this stage is 45% for search ads and 55% for display/discovery ads.
3. During the return period, you can use video ads + display ads/discovery ads to continuously promote brand activities to promote retention of existing users and introduction of new users; use search + effect maximization ads to continuously capture product/discount related search terms and cover users need. At this stage, it is also necessary to set up an independent ad campaign to launch, and the ad landing page is changed from the previous Amazon event page to an independent station event page. Allocated budget: 25% for search ads, 30% for video ads, 25% for display/discovery ads, 20% for maximized performance ads.
Smart use of Google's rich audience targeting can also help to improve the accurate display of advertisements.
The main goal of the warm-up period is to reach a large number of potential users, build awareness of the event, and seize market attention. Then target groups of related interests, festivals andCategoryHigh-potential people can use YouTube video + display to reach potential users on a large scale, create awareness and attention of the event, use Generic Search to capture festival-related search terms, and influence users' purchase decisions.
The main goal of the event period is to efficiently convert potential users and promote event revenue. For high-potential crowds and remarketing audiences in festivals and categories, you can use Display + Discovery to locate middle and lower-level audiences and use remarketing lists to proactively reach interested parties. users to promote purchases; you can also use Generic Search to continuously cover festival-related searches and guide users to take action.
In addition, Google Ads has advanced features about promotions, which can make the offers more attractive. Sellers can add "Promotional Extensions" to highlight sales and offers in an eye-catching format without having to update every ad, resulting in higher click-through rates.
2022 is coming to an end. In the era of change between the old and the new, how can cross-border people focus on moving forward and rebirth? What kind of cross-border melody will sound in 2023? The global market is changing rapidly. In addition to potential business opportunities, there are also hidden crises and challenges?
How Fulfillmen Can Help You
If you're looking for ways to enhance your e-commerce solutions, we can help you here at Fulfillmen.
Fulfillmen is the best Chinese fulfillment center. We help e-commerce entrepreneurs from China and all around the world.
We work with e-commerce solutions, logistics, dropshipping, product sourcing, and many more. Just reach us out and we'll help you with your needs! You can reach us out here.