Under the influence of the global epidemic, China's exports still maintained a high growth rate. From January to June 2021, China's exports of goods trade reached 9.85 trillion yuan , an increase of 28.1% . At the same time, according to the data of the research report of the German Machinery and Equipment Manufacturing Association, China's machinery and equipment exports reached 165 billion euros in 2020, surpassing Germany for the first time to rank first in the world. It can be seen that cross-border e-commerce is still a blue ocean.
However, some companies who desire to move from domestic sales to export sales do not know enough about abroad markets and "do not dare to switch" or "cannot switch". Some companies have promoted worldwide, but the results are poor. They wasted money and lost faith in foreign markets. Foreign markets are distinct from home markets, and enterprises lack sales experience and brand knowledge, making it hard to get orders. How can blue ocean B2B enterprises grow? How should a beginner play?
Today, I will talk to you about how to use global B2B export tools to carry out correct market launch, quickly deploy the company's overseas marketing strategy, and carry out accurate and effective overseas marketing promotion.
01
B2B Enterprises Successfully Going Overseas Trilogy

As a service provider focusing on providing overseas marketing solutions for B2B companies, relying on 20 years of customer service experience, we have summed up the trilogy of B2B companies' successful overseas marketing, and share it with you today.
◆ Step 1: Choose the right market
Before any business plans to do business overseas, it wants to know which countries require myproduct? What is the purchasing power of the country that needs my product? Is it an intermittent need or a long-term need?
Indeed, the volume of overseas exports is huge. Before starting to expand overseas markets, companies first need to investigate the market situation and determine the way forward. The following are three commonly used online export analysis resources, which are also the three free tools most commonly used by our operators in the process of advertising, namely Global Business Opportunity Insights, Google Trends and Trade Map.
1. Global business opportunity insights Think with Google
Global Business Opportunity Insights is a free online tool to help companies understand the global market, analyze world market conditions, and accurately position and invest in the market.
It presents 4 main indicators for firms and classifies them by comprehensive score so companies may initially select out the TOP10 or TOP20 nations for exporting their products.
2. Google Trends
Google Trends is a free analysis tool based on Google search data. Search represents the most real user needs, such as: the popularity and trend of the product in the target market? Which countries are most interested in my products? The latest trending industry search terms? These can be directly reflected through search data.
Search popularity by region: Allows you to see in which countries your search term steel pipe is most popular.

Trend over time: Lets you see when steel pipe's popularity peaked in South Africa over the past 12 months.

3. Trade Map
Through this tool, we can understand the global import volume of the product, as well as the data of China's export of the product, and at the same time, we can also query the import and export volume and growth rate in recent years.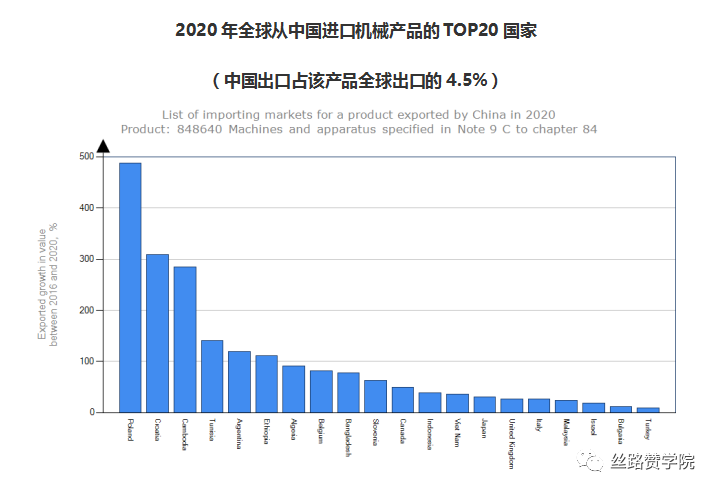 For enterprises, it is recommended to use the above three tools at the same time to screen more accurate potential overseas markets, because some regions may have a large demand but a small search volume, so they should be combined with each other, and then formulate a market launch plan.
Therefore, whether it is a novice foreign trade company that wants to learn about overseas export opportunities, or a mature foreign trade company that wants to find opportunities in emerging markets, these three tools are very practical and easy to use.
◆ Step 2: Understand industry data
After determining the target market, the next step is to study the data of peers and understand the cases of going overseas in the same industry. As the saying goes, it is easier to succeed if you learn to "stand on the shoulders of giants". Looking at the successful people around us, what they are best at is "standing on the shoulders of giants" and using the successful experience of others to navigate their way forward. Here to share with you two free smart tools.
1. Industry report
Through in-depth research on 150 important industry segments, the industry study covers mainstream B2B industries, worldwide export trends, and online promotion statistics. This function includes 8 major industries and 49 sub-industry reports, including machinery and equipment, general components, metal goods, textiles and clothes, petrochemicals, electronic appliances, medical care, automobile industry, transportation equipment, and paper printing. Data analysis, digital marketing, and industrial case studies.
2. Keyword Tool
As the person in charge or boss of the marketing department of the enterprise, it is also necessary to estimate the annual or quarterly budget for digital marketing investment. For example: What is the approximate keyword click cost for our company to promote? What keywords are being used in the same industry to acquire customers? How much marketing budget do you need each quarter?
Here is a free tool recommended for everyone: Smart Keyword Tool. The method of use is very simple. You only need to enter the English product words of the company to view the keywords put by peers, the cost per click, the average monthly search volume and the degree of competition. This data is updated in real time based on Google's background. A high degree of competition means that there are many companies investing in this keyword, and the cost of clicking will be high.
◆ Step 3: Select delivery channels
After confirming the market launch and absorbing the successful experience of peers, the next step is to choose high-quality channels for attracting traffic and acquiring customers. After all, the input-output ratio is the core indicator that enterprises ultimately care about. As the cost of overseas traffic continues to rise, independent station drainage is the most important link in the operation of independent stations, which determines the success or failure of the overseas strategy. Therefore, traffic is a key part of independent stations.
Let me first introduce you to B2Bindependent stationThree major marketing methods for overseas traffic: search marketing,social mediamarketing and video marketing.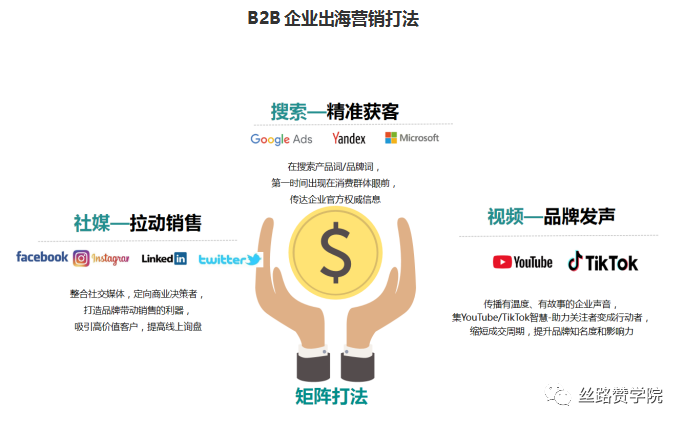 1. Search Marketing
Search advertising is still one of the mainstream advertising forms of online marketing, which can bring the most accurate traffic to overseas companies. When the user searches for the keyword placed by the advertiser, the corresponding advertisement will be displayed, and there is no charge for no click.
Google: The world's largest search engine, accounting for 92.54% of the global search market. It is the "leader" of Chinese companies going overseas, and 90% of the orders in the overseas customer acquisition channel come from Google.
Yandex: It is the "No. 1" search portal in Eastern Europe and the first choice to enter the Russian-speaking market. There are more than 50,000 companies selling their products through Yandex. If you want to expand the Russian market, it is imperative to carry out Yandex promotion services.
Microsoft: The world's second largest search engine, the US PC market share has reached 36% , the user group is more high-end, has stronger purchasing power, and reaches tens of millions of users that Google cannot reach.
2. Social media marketing
The biggest development since the 2020 pandemic is search channels. The survey found social media Second only to search engines, it's becoming more significant in brand and product information. Therefore, export organizations must generally consider which channels target users and customers seek brand information and how to integrate search-friendly brand content into social media advertising.
Facebook: The world's largest social media, used by 94% of global marketers in their marketing work. In recent years, 70% of foreign trade users use Facebook accounts and live broadcasts to acquire customers and build brands.
Instagram: generally referred to as ins, the most influential social media. 60% of users will learn about product information through ins, and its user participation is much higher than that of Facebook.
Twitter: The world's leading mobile social platform, the information is instant, and it is also the most official voice channel.
LinkedIn: The world's largest professional networking platform. The portrait of the user is very accurate, and there is no need to judge the occupation of the user through behavior.
3. Video marketing
Since 2017, "Made in China" and "Chinese brand" have become the main theme of Chinese enterprises going overseas. Therefore, if an enterprise wants to truly gain a foothold in the overseas market, it needs to skillfully use online video to expand the audience and reduce costs, strengthen its own brand building, and gain the recognition of overseas buyers.
According to relevant data, 70% of platform viewers believe that they have learned more about new brands through YouTube. SimultaneouslyTikTokAs a short video platform that has sprung up suddenly, it occupies an increasingly important part in the lives of millennials.
YouTube: The world's largest video network, 88% of cross-border e-commerce companies use YouTube channels for brand promotion or live streaming.
TikTok: The world's leading mobile short video platform, 6 out of 10 people choose to watch online videos to find the information they want or learn about new content, and at the same time bring positive ROI to cross-border e-commerce customers, quickly Enhance brand or product image and popularity.
02
Marketing
I explained the overseas marketing methods of B2B companies, so how should I choose a marketing method that suits me as an enterprise? Here are two of the most effective marketing strategies recommended for you:
◆ For small and medium-sized enterprises that mainly sell products and have limited budgets
Recommend Google Ads+Facebook Ads . The figure below is a comparative analysis of the audience accuracy and lead cost of Google and Facebook.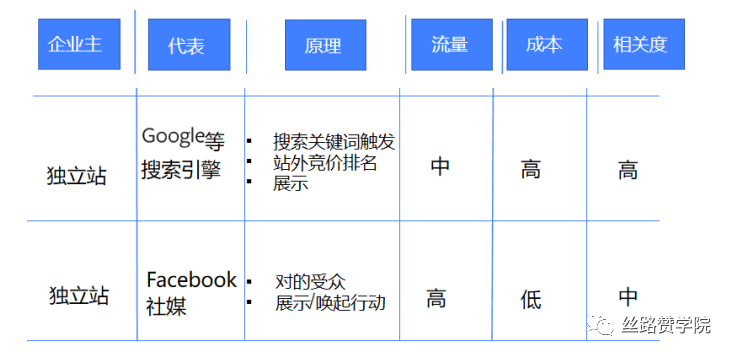 Search engines have the nature of diversion, while Facebook needs to find audiences through tags, and then arouse customers through advertising and content marketing.
In terms of relevance, Facebook is definitely not as high as Google, because the search engine is what you search for, and users will only search for what they are interested in. But Facebook works quickly and the cost of a single form lead is low, generally 0.5-2 dollars. Therefore, it is recommended to launch both at the same time, and obtain the quantity and quality of inquiries at the same time.
◆ For enterprises that both sell products and carry out brand building
Recommended search + social media + video three-pronged approach for accurate customer acquisition and brand promotion. The public domain obtains accurate traffic, and the private domain conducts traffic retention, precipitation and secondary marketing, and carries out brand building through content operation and video operation.
Of course, the company's specific choice of drainage method also needs to consider multiple factors such as its own product positioning, the company's market budget, and team staffing.
Finally, let me clarify this issue: Companies that have never gone overseas or lost trust in overseas markets can utilize the B2B Enterprise Going Overseas Trilogy to find international markets, learn from peer data, and optimize drainage channels to win in overseas markets. Start as a better sailor.
How Fulfillmen Can Help You
If you're looking for ways to enhance your e-commerce solutions, we can help you here at Fulfillmen.
Fulfillmen is the best Chinese fulfillment center. We help e-commerce entrepreneurs from China and all around the world.
We work with e-commerce solutions, logistics, dropshipping, product sourcing, and many more. Just reach us out and we'll help you with your needs! You can reach us out here.