The 2021 Amazon Revenue of $469 billion was up from $386 billion in 2020, with 22% of that revenue driven by third-party sellers. 89% of third-party sellers connect to Amazonlogistics(FBA) to manage the platform business.
While competition intensifies on Amazon and other e-commerce platforms, so does demand for online shopping – 63% of consumers start their searches on Amazon products.
This article will explain to you why Amazon is still your best choice in 2023.
1. Revenue of Amazon sellers
It is worth mentioning that nearly 65% ​​of third-party sellers said that their profit margin was higher than 10%, and 32% of sellers said that their profit margin was higher than 20%.
The following is the monthly sales of some sellers on the platform:
• 50% of Amazon sellers have monthly sales ranging from $1,000 to $25,000
• 13% of Amazon sellers have monthly sales between $25,000 and $250,000
• 22% of sellers have monthly sales of less than $500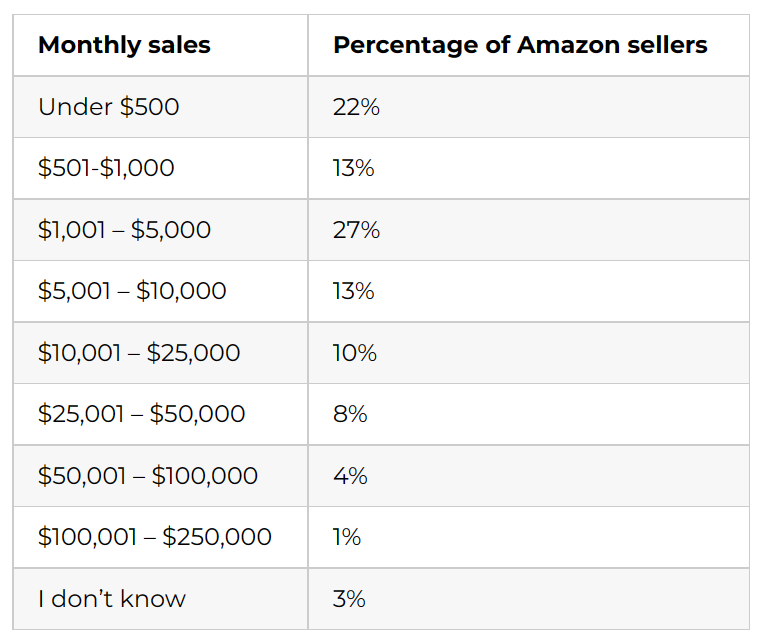 Many sellers have recently started selling on Amazon and are seeing early signs of success with Amazon's strong supply chain and massive customer base.
What is the profit margin of the sellers when the sales situation is still ideal?
Compared to other traditional retail businesses such as brick-and-mortar stores, Amazon sellers have relatively high profit margins:
• 65% of Amazon sellers have profit margins greater than 10%
• 32% of Amazon sellers earn at least a 20% profit margin
• 14% of Amazon sellers have a long-term profit of more than $100,000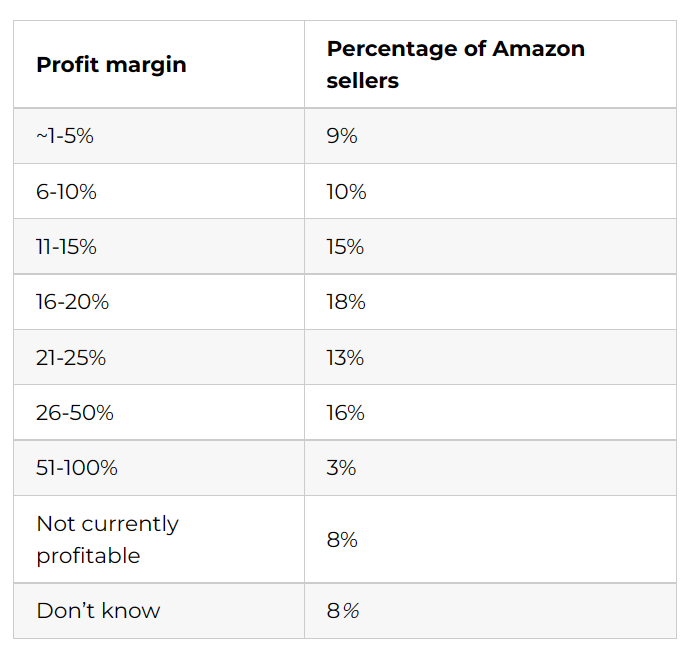 2. The pros and cons of choosing Amazon
Amazon FBA is undoubtedly a successful business model, providing professional online retail technical support for countless sellers, but everything has advantages and disadvantages.
1. Advantages:
• Amazon receives nearly 3 billion monthly visits and has more than 300 million Prime members worldwide.
• If the seller uses Amazon's FBA program, the inventory will be sent to Amazon's logistics operation center, and professional logistics and warehousing services will pave the way for you to easily fulfill orders.
• When a seller uses FBA to fulfill an order, the corresponding product will receive the Prime logo, which gives the seller access to Amazon's large Prime member base, who often order products exclusively from Prime sellers.
2. Disadvantages:
• If Amazon fulfillment is used, the seller needs to store the goods in Amazon's operations and incur certain storage fees. Divided into monthly fees and long-term fees. Learning to manage inventory properly will help sellers avoid costly storage fees.
• While Amazon is responsible for storing, picking, packing and fulfilling orders across the line, there will also be a fee for this. FBA fees depend on the size and weight of the item.
• Because Amazon has established a relatively lenient return policy , the return rate of some sellers may be high. While this is very convenient for consumers, it can be a bit tricky for sellers.
3. How competitive is the Amazon platform?
Although Amazon has become more competitive over the past few years, it can still be profitable for new sellers. It should be noted that the competition on the Amazon US site is very fierce, and it is also the site where sellers can get the most traffic. Nearly 600,000 new sellers will sign up to sell on Amazon this year. As a novice seller, you must not choose to cultivate a certain market without doing in-depth research.Category, otherwise it is very easy to run into a wall.
35% of Amazon sellers stated they needed additional training, and 24% were unclear about how to sell. 26% of vendors fear losing market share, and 33% fear the internet sales procedure.
Fortunately, countless Amazon sellers have found success with the high-quality training content the platform offers online—many of which are even free.
4. How do sellers sell products on Amazon?
Many new sellers don't know how to take their first steps selling on Amazon. Most sellers (69%) can start their Amazon business with about $5,000, 32% start with less than $1,000, and 16% even start with less than $500!
If you want to develop your own private label, you need additional startup capital. For retail arbitrage or wholesale, a lesser budget is fine if you want to make money rapidly. 82% of first-time Amazon sellers bootstrap or use savings.
If a new seller buys distressed merchandise, using a credit card or loan is dangerous. However, 9% of sellers utilized a family loan, 18% used a credit card, and 14% used a company loan.
Amazon sellers can turn Amazon sellers benefit quicker than tiny brick-and-mortar businesses. 20% of Amazon sellers report profitability in less than 3 months, even though it can take 2+ years. Not all sellers are lucky. Branded merchants may take longer to benefit. Private labels typically take 3-6 months and 1-2 years to become profitable.
In terms of time cost of business management, if you use FBA to handle all order logistics, you can spend less than 10 hours a week on business like 43% of sellers.
In the beginning, 13% of sellers spend 21-30 hours per week on their business, while 19% of sellers who sell on Amazon full-time work almost 40 hours or more per week.
Amazon has more benefits than drawbacks. If rookie sellers want to control Amazon FBA, they must spend time and money learning and practicing. Believe that you can profit from your hard effort.
How Fulfillmen Can Help You
If you're looking for ways to enhance your e-commerce solutions, we can help you here at Fulfillmen.
Fulfillmen is the best Chinese fulfillment center. We help e-commerce entrepreneurs from China and all around the world.
We work with e-commerce solutions, logistics, dropshipping, product sourcing, and many more. Just reach us out and we'll help you with your needs! You can reach us out here.