China makes 80% of electric skateboards. China will produce 3.64 million electric scooters in 2020, 85.52% of the global total of 4.25 million. Electric scooter manufacturing will reach 10.01 million by 2027, where the market is clear.
However, there are very few electric skateboard brands that belong to China independently in the world. Molly found a good electric skateboard DTC brand in China – MEEPO.
MEEPO founder Mao Li skateboards. He surprisingly became popular in 2017 after posting YouTube videos of board assembly. Passed independent station. Order acceptance can net several million a month. MEEPO was born, and everything seemed normal.
1. Market space of electric skateboards
In China, skating is seen as a fun and adventurous way of life, and most users are in their 20s. In other nations, the average skateboarder is 30-40 years old. They have a lengthy skateboard culture and many commute on skateboard. Foreign skateboard markets provide domestic sellers a fresh possibility.
The global electric skateboard market is driven by sports' popularity and entertainment's rising appeal. Australia, the US, and Europe prefer electric skateboards because they are faster and easier to manage. Electric skateboards are popular worldwide among all ages.
Thwy are becoming popular personal transportation due to their compact size and ease of usage. Electric skateboards also save time, which drives global demand.
The global electric skateboard market is projected to reach US$1,931.8 million by 2022 and US$3,525.39 million by 2032. Electric skateboard sales will grow 6.2% throughout the evaluation period. 5.1% market growth from 2016 to 2021.
Europe trails North America in the electric skateboard business. The Public Skatepark Development Guide estimates 3.1 million US youth are hardcore skaters. The global electric skateboard market is 32.7% North American and 27.7% European.
MEEPO has shipped approximately 150,000 pieces to more than 70 countries in five years, benefiting from the domestic supply chain. Its $400 pricing makes it popular.
MEEPO earned about 100 million yuan in 2021. Since its founding, it has been the best-selling longboard on Amazon and the first in US independent station traffic for electric skateboards.
2. Break through the traffic bottleneck
MEEPO's independent station initially sent samples to microinternet celebrities. For free traffic, evaluate and promote videos. The first year, 1,500 units were sold without advertising, but traffic bottlenecks made Mao Li recognize that only natural traffic can be obtained. He focused on paid promotion to avoid losing potential buyers.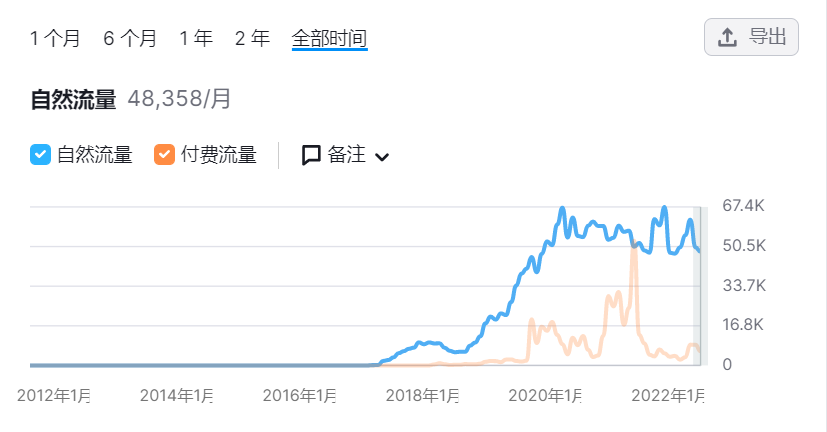 Meepoboard.com currently receives 330,000/uv, with 42.59% direct visits, 39.78% search traffic, and 9.51% social traffic.
Traffic Sources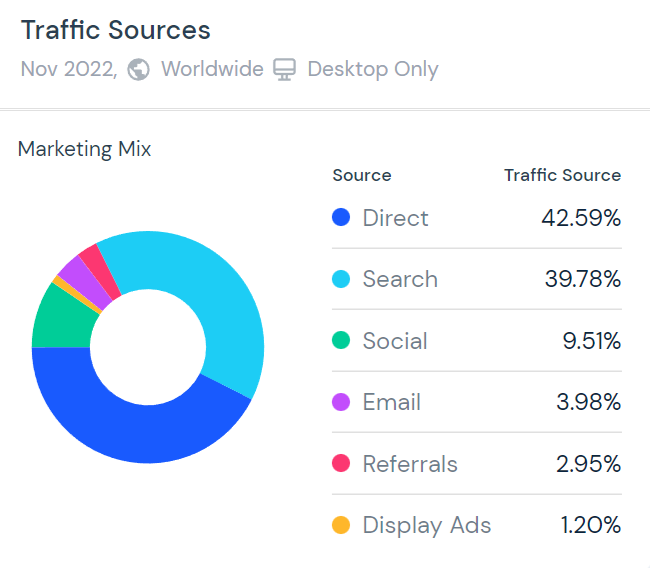 Image
Natural traffic and paid traffic accounted for 55.13% and 44.87% of the search traffic respectively. Of the natural traffic, 55% of users entered the official website by searching common terms for products, and 45% entered by searching for brand terms. Brand momentum still needs to be improved.
In this way, the first step for MEEPO to break through the traffic bottleneck is to broaden the user base , increase crowd segmentation, and carry out effective promotion with conversion as the goal through Google ads.
The main audience of MEEPO is young people around 20 years old. However, through website traffic analysis, the number of visitors aged 25-34 exceeds that of users aged 18-24 by 6%. Therefore, these older youths can be used as the upper-level funnel for expansion. The main goal of the flow pool.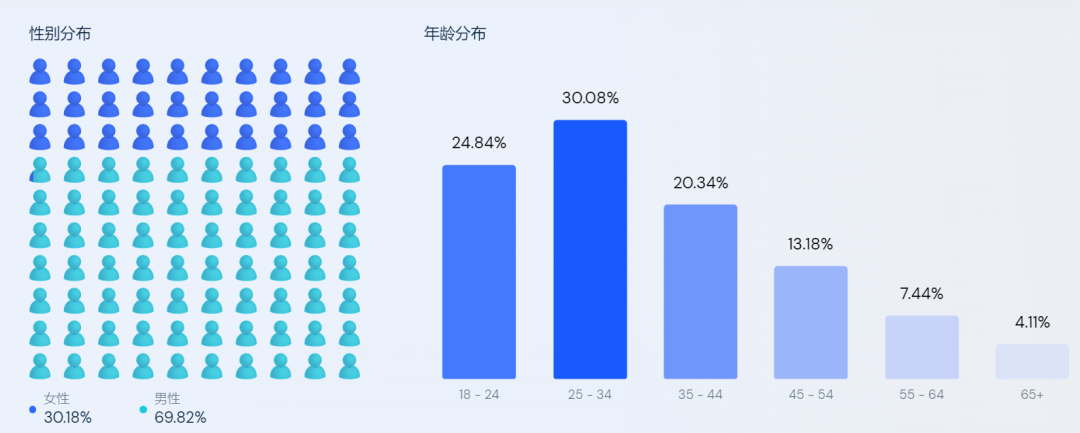 After identifying the user group, creative content should be tailored to their traits. For example, young consumers aged 18-24 prefer creative, dynamic, and high-burning videos to stimulate users; older youth care more about product functions, so advertising materials should emphasize practical functions like transportation/commuting/endurance and use different materials to reach different consumer groups.
After validating the material, they mostly market using social media like Facebook and YouTube, targeting skateboarders and related products and giving innovative materials. The "shop now" button guides interested viewers to the advertisement. Enter the landing page to convert further.
MEEPO ran 16 US-based Facebook ads in December. 66% of website users interviewed are from the US, hence MEEPO development is still focused on the US.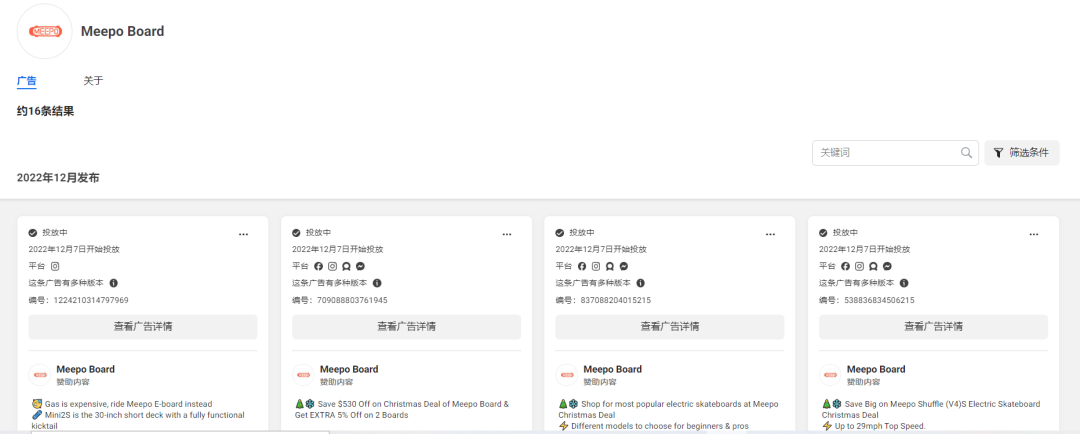 After the first stage of attracting new users, MEEPO observed from Google Ads account data that the conversion rate of users who have visited the website many times is 2 times higher than that of customers who visited the website for the first time, so they entered the second Phase – Remarketing .
Use distinct material for viewers of video advertising and product page visitors. The ad will be shown again on Google/YouTube and other sites to increase purchase intent.
After attracting users to the landing page, an excellent website can finally retain users and complete the final conversion, so it comes to the third stage-the conversion stage .
3. Improve website loading speed
Molly observed that MEEPO's independent station adopted shopify Prestige, a paid theme with a 93% positive feedback rating, focuses on product and brand identity.
One of its main benefits is that it has more built-in marketing opportunities, such as in-menu promotions, promotion pop-ups, recently seen and recommended products, Instagram, social media Apps, email subscriptions, and other tools that link products;
The theme can also change the product title, original description or excerpt, product details or content, and product variant names, as well as make the article search engine friendly to help sellers with SEO optimization. Not all themes have this.
Molly found their in-menu promotions and image hotspots to be interesting when looking at their standalone site.
In-menu promotion: under the subdivided menu bar, promotional products can be displayed first;
Image hotspot link: The mouse hover operation will provide information about the product, which can reduce the customer's multi-page navigation for the product, and mark the highlight for the product.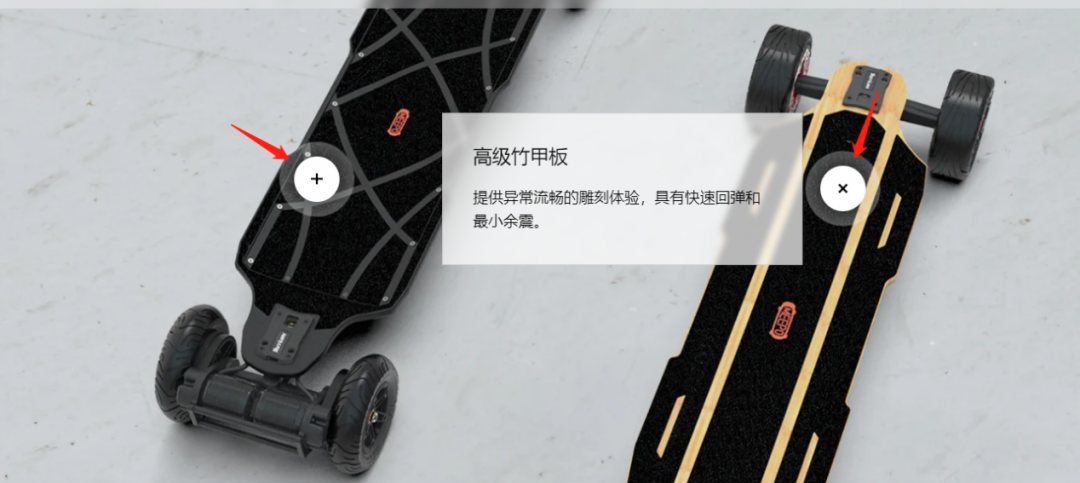 Themes have pros and cons. In the operation, Molly observed that the theme cannot support currency conversion and refund choices, and the website opens slowly due to the enormous quantity of high-definition photographs and videos.
71.38% of MEEPO independent station users access the website via mobile phones, hence mobile terminal access speed influences website retention.
The mobile terminal's PageSpeed Insights score is 53, indicating poor performance. MEEPO's website is in First Contentful Paint (when the browser renders the first DOM element, 0-1.8 seconds is best), according to the diagnosis. Time to Interactive (interactive time, less than 2.5 seconds), Speed Index (average value of first screen display, 0-3.4 seconds is better), Total Blocking Time (should be controlled within 300 milliseconds), Largest Contentful Paint (the time it takes to render the element with the most content, the lower the score, the better the website optimization, the faster the website loading time, usually less than 2.5 seconds) All above average.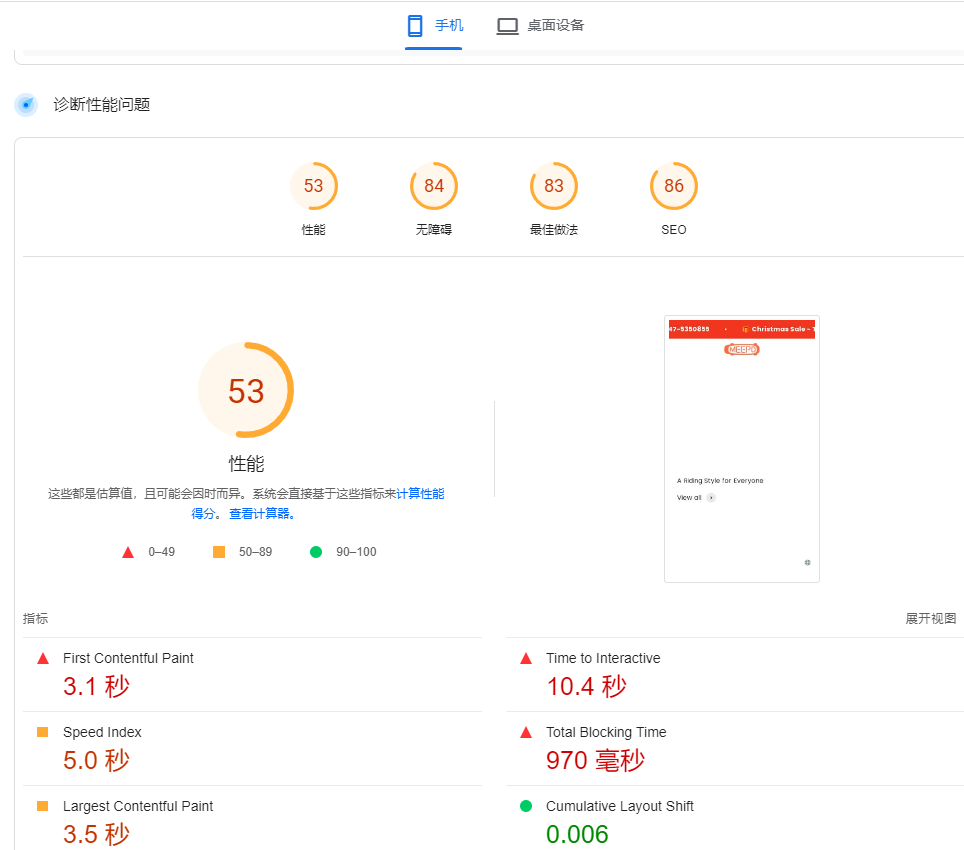 According to the diagnosis, the website's response performance is affected by the big DOM and third-party code from Tik Tok, shopify, Facebook, Google Analytics, etc.

In order to improve the opening speed of the website, it is recommended to:
(1) You can reduce unused JavaScript and wait until you need to load scripts to reduce the number of bytes consumed by network activities;
(2) shorten the initial server response time and ensure that the server takes less time to respond to the main document, as this will affect the response time of all other requests;
(3) Postpone the loading of off-screen images. It is recommended to postpone the loading of off-screen images and hidden images after all key resources are loaded, so as to shorten the time-consuming before interaction;
(4) Use a new generation format to provide pictures. The compression effect of picture formats such as WebP and AVIF is usually better than PNG or JPEG, so the download speed is faster and the data traffic consumption is less.

Website loading speed can boost conversion rates and sales.
Four. Conclusion
Competition has increased product homogeneity. MEEPO has achieved early traffic returns, but as the brand matures, it must extend new marketing strategies and traffic pools to stay competitive.
How Fulfillmen Can Help You
If you're looking for ways to enhance your e-commerce solutions, we can help you here at Fulfillmen.
Fulfillmen is the best Chinese fulfillment center. We help e-commerce entrepreneurs from China and all around the world.
We work with e-commerce solutions, logistics, dropshipping, product sourcing, and many more. Just reach us out and we'll help you with your needs! You can reach us out here.