Do you regularly worry that once the listing has been up for a while, traffic, order volume, and advertising statistics may drop? Although nothing has changed, the data has. It all makes sense. Your opponent is always improving. Therefore, if you meet such a difficulty, you must properly check your listing status from the following elements to determine where you stand compared to your opponent.
First, compare the external display effect

First of all, let's compare the display effects of the two listings. The display here covers the main image, evaluation, question and answer, A+, video display quantity and quality, and so on.
First, the main photo. 6 key photos and a video are usually best. Five major photos, a video, and a 360 view are also used by certain minor partners. It was crowded. If your product is complex, showing 360 views to improve client experience is more helpful. Your investment manager can help you shelf this 360view. Sending him the documents requires preparation. Ask Amazon customer care for specifics.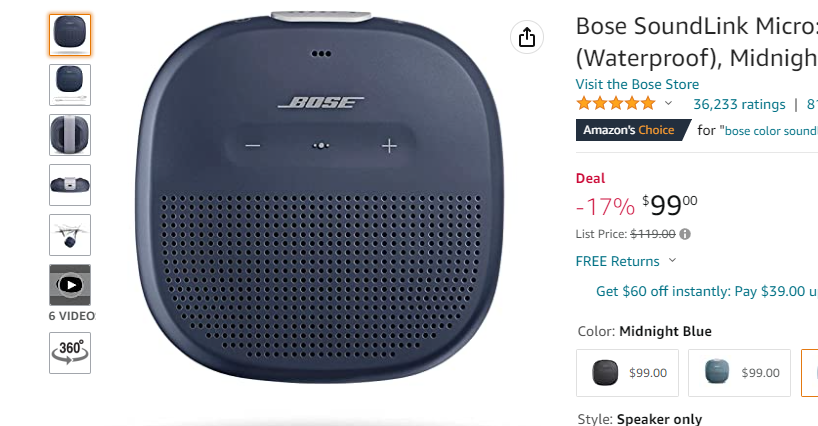 The main picture's selling points must be robust, each photo must have its own selling points and differences, and the overall series of pictures must be cohesive. Find a great designer to help you design your photographs since color matching and structure are as integrated as feasible. High-quality photos boost conversions. Working hard to convert little traffic will simply fatigue you.
In addition to the main picture, A+ is another part of the picture display, and it can also be accompanied by text. The official line has always been that a good A+ can increase conversions by 5%. In fact, if your pictures are good enough, the increase will not exceed 5%.
And now there is such a high-level A+ appearing, try to put A+ on it as much as possible, so that it is a complete listing.
Customers first read reviews and Q&A below the headline. Customers would like you if you have many reviews and questions and answers. Q&A We can use our typical accumulation or an intermediate to put it on the shelves. A few key questions and responses are plenty. The video can now include products and Q&A.

In terms of evaluation, we need to focus on two points. One is the number of reviews, and the other is the number of good comments on the review page.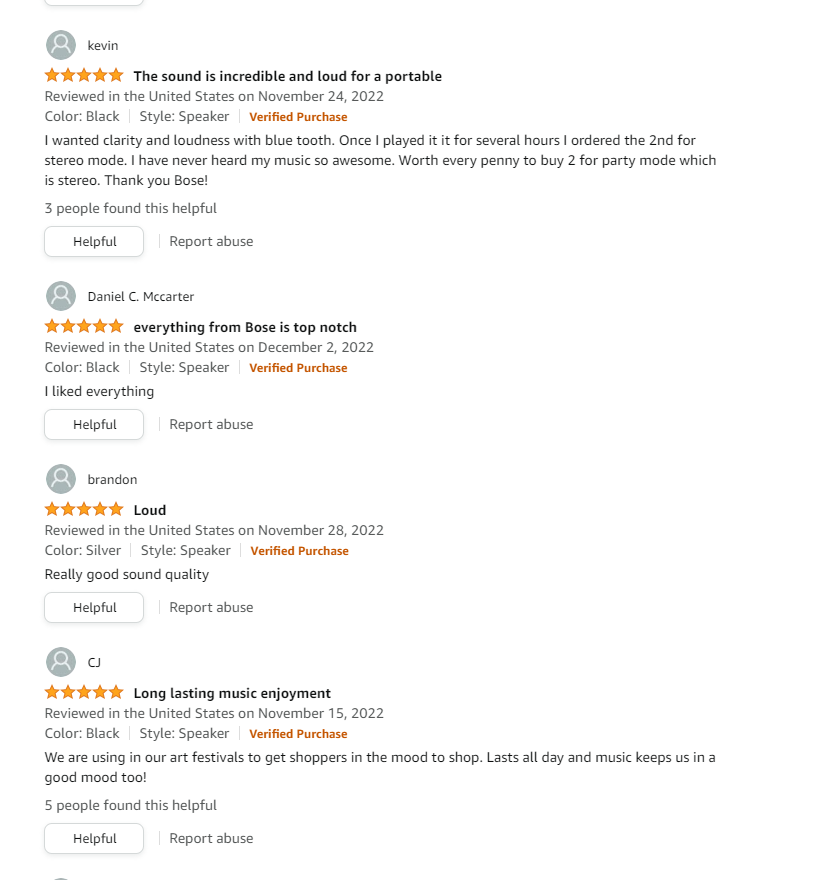 We can obtain the number of reviews by participating in vine. At present, the background of this function is open, but when the first evaluation comes back, a fee of 200 US dollars will be deducted. As long as your product is relatively simple and of good quality, vine will bring you many surprises.
The evaluation homepage also has positive comments. We recommend no bad ratings on the home page and good evaluations across the board. Many providers can assist. If a rebound occurs, choose a new comment, like it, then click to the top page again.

The final video displays celebrities. Video and explanation are fine. Showcase your merchandise whenever possible. You must determine if your opponent has changed in these areas or if you have fallen behind.
Second, compare the existence of advertising slots
The next thing we want to compare is the situation of the advertising space. At this time we need a tool to assist, here we use the seller wizard.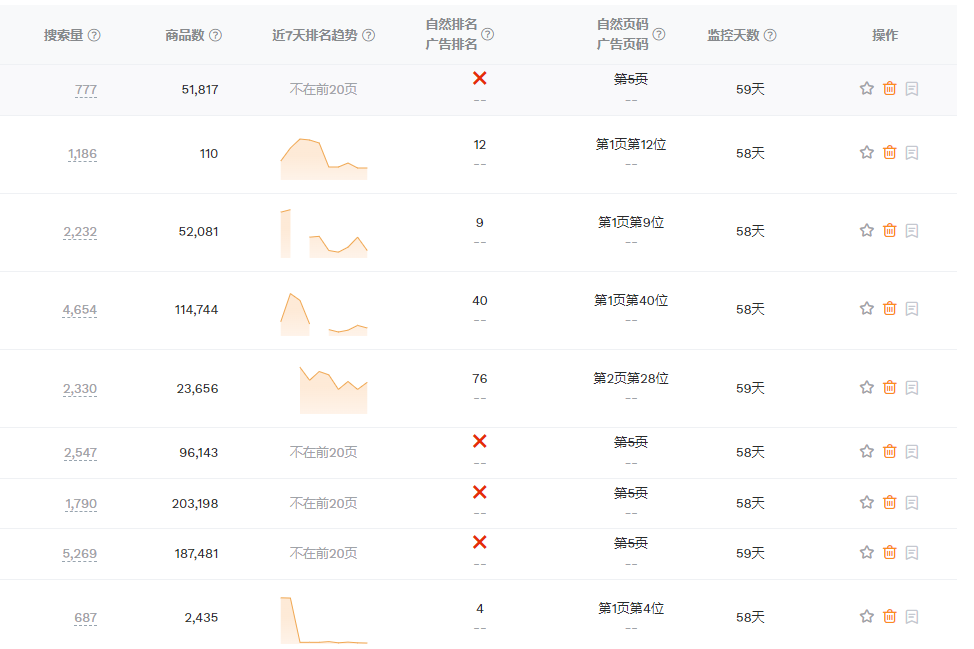 We first record all the main keywords, and then check our ad position and natural ranking position at the same time. Then query the opponent's position and make a comparison. Find out whether our ranking is lagging behind recently, and whether any advertising space has been snatched by our opponents. Then adjust the advertisement, grab the advertising space back, and then observe the order situation.
Third, understand the opponent's traffic words
Since the order has fluctuated, in many cases the traffic has shifted to a certain extent. So we need to check the opponent's current traffic situation. Whether there is a clear gap between our traffic and that of our opponents.
We open the keyword reverse search function of the seller wizard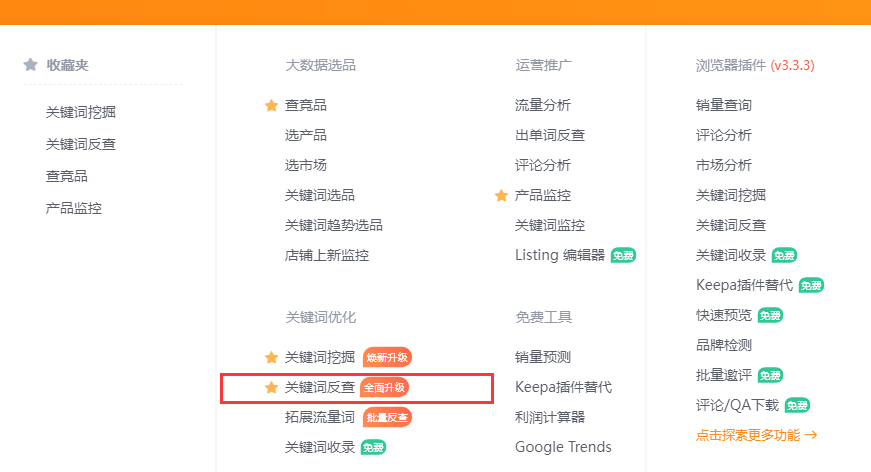 After we input asin, we can get the associated keywords of each variant of this product. Here you can clearly see a number, which is the number of associated traffic words. And we can check whether there is a gap or change in the associated traffic words by comparing our products with those of our competitors.

We can also filter the month to see the comparison between the opponent's traffic words and our traffic words in the past time period. We can clearly know in which month our traffic was quietly lost, and in which month the opponent started to run. At the same time, you can know which keywords brought traffic growth to your opponent in that month.
Click on asin perspective, you can also view the sales of the opponent in the past two years.
And when we look down, we can see the main traffic composition of the opponent

At this time, we can also select the main keywords of our opponents and add them to our advertisements or embed them in our listings. These keywords also have a lot of indicators, which can help us play a guiding role when advertising or competing for rankings.
Fourth, obtain category information through tools to understand high season difference
As we said earlier, using plug-ins, you can get past sales information of products. Then look at the oldest products and the top products, and you can generally understand the market situation of this category. So your sales decline is likely to be the seasonality of this product. You need to grasp the low and peak seasons and prepare in advance.

Fifth, periodic monitoring
Be sure to monitor your opponent. In addition to keyword monitoring, it is also necessary to monitor the opponent's five-element description, main picture, title and other changes. A slight action will affect the weight, thereby affecting the sales competition between you and your opponent. Be sure to use the tools well and keep abreast of the dynamics of your opponents.
If you have encountered similar problems, then check the link thoroughly according to the above five points, and hope that all friends can become BSR!
How Fulfillmen Can Help You
If you're looking for ways to enhance your e-commerce solutions, we can help you here at Fulfillmen.
Fulfillmen is the best Chinese fulfillment center. We help e-commerce entrepreneurs from China and all around the world.
We work with e-commerce solutions, logistics, dropshipping, product sourcing, and many more. Just reach us out and we'll help you with your needs! You can reach us out here.